VW share price fall pushes down German market
The latest revelations from Volkswagen, this time involving "irregularities" in the levels of carbon dioxide emitted by 800,000 of its cars, have seen its shares slump once more. They closed down 9.5% at €100.45 , wiping nearly €5bn off its market value today. This is more than twice as much as the €2bn as it admitted the new problem would cost it. Since the crisis began VW has lost nearly €30bn of value.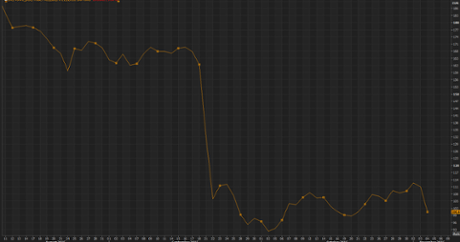 VW's slide helped push Germany's Dax down nearly 1% by the close on a day when most other European markets edged higher.
However some of the shine came off markets after an opening fall on Wall Street. Stronger than expected US data – the ADP montly employment report showed more jobs were added than expected ahead of Friday's key non-farm payrolls numbers – along with comments from Federal Reserve chair Janet Yellen that an interest rate hike was a live possibility in December pushed American shares lower.
The final scores showed:
The FTSE 100 finished 29.27 points or 0.46% higher at 6412.88
Germany's Dax dropped 0.97% to 10,845.24
France's Cac closed up 0.25% at 4948.29
Italy's FTSE MIB dipped 0.65% to 22,312.63
Spain's Ibex ended up 0.08% at 10,473.5
In Greece, the Athens market slipped 1.33% to 708.59
On Wall Street, the Dow Jones Industrial Average is currently down 52 points or 0.29%.
On that note, it's time to close up for the evening. Thanks for all your comments, and we'll be back tomorrow.
Updated at 5.19pm GMT
5.16pm GMT
Volkswagen has old US and Canadian dealers to stop selling recent models equipped with 3.0 V6 TDI diesel engines, Reuters reports:
The stop-sale order follows a notice by the U.S. Environmental Protection Agency that VW group brands had installed illegal devices on some 3.0 V6 diesel models.

VW and Audi dealers were ordered to stop selling new 2015-2016 models with the 3.0 V6 TDI, including the VW Touareg and the Audi A6, A7, A8, Q5 and Q7.

VW said pre-owned models from 2013-2014 are included in stop-sale order to dealer.
5.14pm GMT
Moody's downgrades VW
Moody's has downgraded VW's credit rating to A3 from A2 with a negative outlook following the latest irregularities.
It said the downgrade reflected the view that the emissions issue would have adverse effects on the company's future earnings and cashflow. Moody's senior credit officer Yasmina Serghini said:
Today's downgrade reflects mounting risks to Volkswagen's reputation and future earnings following its announcement on 3 November regarding irregularities in CO2 and fuel consumption levels for certain Volkswagen group vehicles, as well as fresh allegations from the US EPA on 2 November that defeat devices were also installed in certain Audi, Porsche and Volkswagen Touareg models in the US,.

These new claims pose further challenges to Volkswagen's financial flexibility and competitive position, and heighten Moody's concerns about Volkswagen's internal control and governance issues, thus further weakening its rating profile.
4.39pm GMT
German transport minister Dobrindt says a total of 200,000 cars with the wrong CO2 emissions data could be on the country's roads, and for these vehicles the car tax may need to be adjusted.
He said there would be checks on VW, Audi, Seat and Skoda brands. Earlier he said 98,000 of these could be cars with petrol engines. In total VW has said 800,000 cars could be affected by this latest development in the emissions scandal engulfing the company.
4.10pm GMT
The UK Department of Transport is calling on VW to clarify these latest "unacceptable" actions. A spokesperson said:
We are pressing VW to provide urgent clarity on the situation. The government takes the unacceptable actions of Volkswagen extremely seriously. This development underlines the importance of the government's ongoing investigation to establish the extent to which defeat devices have been used.
3.54pm GMT
The real cost of VW's latest admission is likely to be far higher than the company has estimated, as trust in the business breaks down, says professor Andre Spicer at Cass Business School:
[The CO2 revelations] will add an additional €2bn to its already mounting bill. But the real costs will come from the further damage to its brand. Customers will start asking questions: 'Is my car more polluting than I thought? Are VW's cars less fuel efficient than advertised? What else haven't they told us?'

Markets for complex products like cars run on trust – there is a huge imbalance of expertise between the engineers who build cars and the people who buy them. Consumers trust companies like VW to give them the best deal. That is why people buy their products. If this trust breaks down, customers could start see the organisation as untrustworthy.

The market for VWs could easily turn into what economists call 'a market for lemons' – that is a marketplace where there are huge imbalances of information and customers are routinely suspicious of what sellers have on offer. This suspicion is likely to spread to other brands as consumers start to treat technical details as reliable as the fanciful car advertisements seen on television: they might make us feel good, but they don't describe reality.

The problem with calls for transparency is that Volkswagen has built a culture for decades which has encouraged a lack of transparency. Building a culture of transparency is going to take time. It will be under pressure to overhaul its corporate governance system, but establishing effective oversight is unlikely to be enough. What is needed is effective undersight – giving lower level employees the chance to speak up if something goes wrong again in the future.
3.22pm GMT
Around 98,000 VW petrol cars in Germany are affected by the latest disclosures, the country's transport minister Alexander Dobrindt has told parliament. He said (Reuters reports):
Today we were told that among the affected vehicles are 98.000 petrol vehicles.
VW said late on Tuesday that it had understated the level of carbon dioxide emissions in up to 800,000 cars sold in Europe.
Updated at 4.40pm GMT
3.15pm GMT
Summary: VW could face billions in tax claims
Time for a quick recap of the Volkswagen scandal, after a busy few hours:
1) Volkswagen could be forced to pay billions of pounds to European governments in tax credits after admitting it had found "irregularities" in the levels of carbon dioxide emitted by 800,000 of its cars.
Analysts believe VW will be hit with the bill, because drivers enjoyed unfairly low car duty rates based on CO2 test statistics.
2) Lawyers have warned that customers are already suffering from the crisis, which has forced down the resale cost of their vehicles.
VW owners could also face unexpectedly higher costs in the future, if their cars are rerated at a higher emissions level.
3) Angela Merkel's office has urged VW's management to clear the scandal up, and provide the transparency it promised.
Economy minister Sigmar Gabriel has offered the embattled auto firm some support, though, saying it deserved credit for reporting the CO2 problems.
4) Shares in VW have slumped on the Frankfurt stock market today, currently down almost 9%.
That wipes around €5bn off the company's market capitalisation. VW has lost more than one-third of its value since the scandal broke in mid-September.
5) Analysts have warned that the crisis could still escalate.
Exane BNP Paribas fears that VW could suffer a "harsher commercial impact", now it has admitted problems with fuel efficiency figures.
UBS has estimated that the total cost of the emissions crisis could hit €35bn
And Ipek Ozkardeskaya, analyst at London Capital Group, says Germany's image has also been badly damaged by the scandal.
2.42pm GMT
The Volkswagen scandal has reached India.
The Delhi government has issued a notice to the carmaker today, after finding "significant variations" in the German carmaker's diesel car emissions.
Reuters has the story:
The government has asked Volkswagen to respond to the notice in 30 days, Ambuj Sharma, additional secretary in the ministry of heavy industries, said. Volkswagen could face fines or recall if the company is found guilty of violating the emission norms.

Volkswagen's India unit said in a statement it had received a notice from Automotive Research Association of India (ARAI), the country's testing agency, and would submit its response by November 30.
This relates to the first phase of the scandal, involving diesel vehicles emitting excessive NOx gases, rather than the new problems around CO2 and fuel efficiency.
1.51pm GMT
Merkel's spokesman: VW must clear this scandal up
German Chancellor Angela Merkel's spokesman has weighed in, urging Volkswagen to clear the scandal up.
Steffen Seibert pointedly told reporters that VW must deliver on its pledge to explain exactly what has happened, and fix it.
The AFP newswire has the details:
"The government believes the accusations are serious and that Volkswagen has a duty to transparently and fully clear them up", said Steffen Seibert, adding that "Volkswagen has made this promise."

Seibert said the government still stood by Merkel's earlier statement that the scandal would not inflict lasting damage on the reputation of Germany industry.

Merkel on Tuesday insisted that the affair would not tarnish Germany's pristine engineering image, adding that "we must insist on transparency and a rapid investigation. And my assumption is that those involved will do that."
Updated at 2.12pm GMT
1.28pm GMT
David Bailey, professor of industrial strategy at Aston University in the UK, believes the problems with Volkswagen's fuel efficiency could hurt its reputation badly:
He said:
"The scope for brand damage is greater now. I don't think most European consumers are particularly bothered about emissions but when it starts to affect fuel economy people start to take notice.

"This was a company that was going for growth and seems to have been willing to cheat to do it. How much more bad news is there going to be?"
1.14pm GMT
Volkswagen could be forced to compensate customers if it transpires that their vehicles have burned through more fuel than promised.
That would be on top of any compensation handed to governments because VW cars incurred too little tax.
My colleague Graham Ruddick explains:
Volkswagen has said the "economic risks" are €2bn (£1.4bn). This works out as €2,500 per car, far more than the €609 per car put aside for the cost of the 11m cars involved in the diesel emissions scandal.

Analysts believe these costs relates to the amount VW will have to pay back to governments in tax credits. CO2 emissions are used to set the road duty that vehicles are eligible for, so rigging the tests would mean VW vehicles contributed less in tax than they should have.

However, this may only be the start of the costs. VW may have to compensate owners upset that their car consumes more fuel than they thought. The latest revelation could also have a more damaging impact on the brand than the diesel emissions scandal, because it directly relates to the performance of the vehicle.
There are more details in Graham's new Q&A:
12.45pm GMT
Breaking away from Volkswagen briefly, construction machinery giant JCB has joined the ranks of manufacturing companies announcing UK job cuts.
The diggers and excavators firm warned that 290 positions could be lost across its 11 plants, due to a "rapid deterioration" in global construction equipment markets. It's on top of 400 layoffs already planned.
This comes a day after Michelin announced 860 job cuts in Northern Ireland, and on top of thousands of job cuts in the steel industry.
12.23pm GMT
Lawyers: VW revelations spell more trouble for UK drivers
Volkswagen drivers are already being hit in the pocket by the emissions scandal even before these latest problems, according to UK law firm Leigh Day.
Leigh Day's Shazia Yamin says:
"Volkswagen have provided very little information about what they intend to do to repair the problem, leaving their customers in limbo whilst the value of their vehicle depreciates.

"We have already had reports of clients who have sold their vehicle for less than they were worth before the scandal broke and those who are currently trying to sell their vehicles and are being offered sums that are below the pre-scandal book price.
Yamin also points to the vehicle excise duty issue (explained earlier):
"The announcement that the CO2 emission and fuel consumption levels may have been manipulated in both petrol and diesel cars will spell further trouble for UK consumers, particularly as vehicle excise duty is calculated based on either engine size or fuel type and CO2 emissions.
Leigh Day are already representing over 7000 Volkswagen customers who are seeking compensation after it admitted installing software on 11 million cars to fool emissions tests.
12.17pm GMT
Nicolas Ziegelasch, head of equity research at stockbrokers Killik & Co, argues strongly against investing in Volkswagen right now.
He says:
As official fuel consumption figures were also set too low, there is risk of backlash from consumers, and current owners may well claim damages. The group estimates the economic impact at €2bn.

With the continued uncertainty around these issues and the potential long-term cost, we believe that VW remains uninvestable and that the issue is likely to spread across the industry.
11.57am GMT
11.28am GMT
German government: Give VW credit for reporting CO2 problem
Volkswagen still enjoys the support of Germany's economy minister, who has just thrown his support behind the company.
Speaking in Berlin, Sigmar Gabriel argued that VW should get credit for reporting these problems with CO2 emissions and fuel efficiency levels itself.
Gabriel told reporters:
"Volkswagen has flagged the CO2 issue itself, that shows the company is serious about transparency."
Up to a point, I'd suggest. Regulators across the globe are kicking the tires of VW models, so any problems will surely come to light eventually. VW didn't really have much choice….
10.58am GMT
A quick reminder of how the VW scandal has unfolded over the last six weeks:
10.55am GMT
Volkswagen couldn't have picked a worse time to admit it might have cheated CO2 tests.
Adam Vaughan, editor of the Guardian's environment site, explains:
At the end of the month, world leaders including Barack Obama, Xi Jinping, David Cameron and Narendra Modi will join a summit in Paris to 'save the world' from dangerous global warming.
Central to any deal is cutting carbon emissions, so the news that 800,000 cars have potentially emitted more carbon will be as welcome as a coal company at the talks.
Only yesterday, the UN's top climate change official said the VW emissions scandal was a blessing in disguise because it'd hasten the switch to lower carbon vehicles.
Asked if she thought the scandal undermined the car industry, Christiana Figueres said:
"No, I am actually delighted about Volkswagen. … what is their corporate strategy? We are going to scrap diesel and move to electric vehicles."
She might take a different view this morning, now the affair has spread to CO2 too.
10.45am GMT
Ipek Ozkardeskaya, analyst at London Capital Group, says investors have "retreated to the side-lines" to wait for the thunderstorm over VW to calm down.
She writes:
The image of German precision, strength, security and reliance are equally damaged. At this stage, it is very difficult to value the goodwill of Volkswagen.
There's no relief in Frankfurt either, with VW shares still down almost 10% today:
Shares in France's largest carmakers, Renault and Peugeot, both fell around 1%.
Ipek, though, reckons they should benefit from Volkswagen's woes:
The glass may well be half-full for VW competitors, as they certainly have a good market share to grasp as a significant number of VW consumers will likely walk away from VW galleries. At least for the next couple of years.
10.29am GMT
Analysts at UBS reckon this scandal could cost Volkswagen as much as €35bn – or two-thirds of its current market value.
They write:
We continue to appreciate the speed and thoroughness demonstrated by new CEO Matthias Műller in dealing with these issues, and have estimated product fixing costs as high as €10bn in addition to litigation and fines (for a total €35bn).

This development will however certainly add to pressure on VW shares and on-going concerns about costs as well as ethics and governance at the group level.
But they also believe VW can handle the crisis:
We reiterate our investment case on VW which is largely based on an acceleration of corporate change and we continue to see value in the shares as:

(1) our reverse sum of the parts highlights a €32bn negative value for the group's volume brands after €35bn of total fixing and litigation costs and

(2) our liquidity analysis suggests the group can cope with a €35bn outflow over 5+ years without needing to raise capital.
Updated at 10.30am GMT
10.18am GMT
Volkswagen: Some questions answered
Exane BNP Paribas have also created a Q&A on the Volkswagen scandal.
Here are some highlights:
Do we know which cars in which regions are affected?
No. All VW has said is that it is 'mainly' diesel cars that are affected (implying some gasoline also). We do not yet know which regions, brand or models are affected, but given the CO2 type approval nature of the issue, we suspect the bulk of the affected vehicles will be in Europe.
Are these cars a subset of the 11m cars affected by the prior NOx issue?
This is not clear. However given some vehicles appear to have been gasoline models, they are by definition NOT part of the same 11m recall on NOx that originally sparked the crisis. However a large portion of the 800k CO2 affected cars may well be part of the 11m. Any overlap may help reduce total customer compensation costs.
How much did top management know about all this?
We may never know. VW has denied that senior management knew of the issue, and outgoing CEO Winterkorn explicitly denied any wrongdoing in his resignation statement. VW has pointed towards a small number of individuals being involved and responsible for developing the 'defeat device' strategy. However press reports are full of speculation of more broad based knowledge of the issue, pointing to warnings from supplier Bosch many years before the scandal broke. However these reports are all unverified, and thus far NO EVIDENCE of any wrongdoing by top management has been discovered (to the best of our knowledge).
Could VW's new CEO, Matthias Mueller, be at risk?
Possibly. While Mueller, as former Porsche CEO, is unlikely to have been caught up in the diesel defeat device issue, his handling of the crisis will no doubt come under close scrutiny. The continued lack of information is a considerable frustration to investors, even if VW's unwillingness to disclose 'too much' is understandable given the legal sensitivity around the case.
Updated at 11.20am GMT
9.26am GMT
Analyst: VW sales could suffer
The deepening crisis at Volkswagen could have a significant impact on future sales, believes Exane BNP Paribas analyst Stuart Pearson.
Pearson has also hiked his estimated cost of the scandal, in a research note to clients.
He said:
"Another week, another shock in the VW story."

"We add another €4bn euros in recall cost and fear a harsher commercial impact."
VW's share of the European market did fall slightly in September, as the diesel emissions scandal broke.
Updated at 9.31am GMT
9.16am GMT
VW's woes are weighing on the German stock market.
Shares in rival carmakers BMW and Daimler are both down this morning, along with tire maker Continental.

9.16am GMT
€4bn wiped off VW's value
More than €4bn has been wiped off Volkswagen's market capitalisation this morning – which is twice the estimated 'economic risk' of these latest revelations.
VW shares have scrambled back slightly, but are still deep in the red, down around 7.5%.
Updated at 9.16am GMT
9.02am GMT
The cost of insuring VW's corporate debt against default has risen this morning.
That's never a good sign for a company, but it's still below the peak reached in mid-September when the scandal first broke.
8.59am GMT
The car tax angle
The 'irregularities' which Volkswagen has discovered around carbon dioxide emissions could have serious tax implications.
In Britain, car vehicle tax rates are based on either engine size or fuel type and CO2 emissions. So potentially, VW drivers may have benefitted from unduly low rates — at the taxman's expense.
The UK government runs a 'car fuel data' web site, where drivers can check the CO2 emission rates and tax bands of thousands of cars, including VW models:

That's just conjecture at this stage – VW haven't yet said where these cars were sold.
But Germany's motor vehicle tax is also based on CO2 emissions, as is Ireland's…
Updated at 11.06am GMT
8.39am GMT
Here's Reuters' early take:
Shares in Volkswagen dropped as much as 10% on Wednesday after fresh admissions from the carmaker that it had also overstated fuel-consumption claims and would take a further financial blow of €2bn ($2.2bn).

By 0816 GMT, the shares were trading down 8.8% at €101.20. Since VW admitted on Sept. 18 it had cheated diesel-emissions tests in the United States, €24bn have been wiped off its market value.
8.28am GMT
VW's shares have hit a two week low this morning: (sorry, I forgot they dipped below €98 in mid-October).
This chart shows the share price since August, up to this morning's tumble: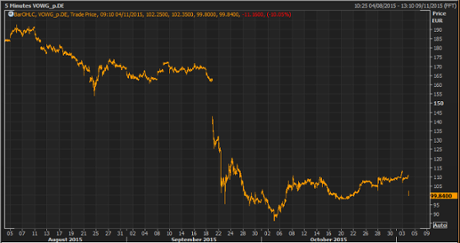 The big plunge came in mid-September, when US regulators broke the news that VW had been cheating on emissions tests.
Updated at 8.31am GMT
8.15am GMT
8.06am GMT
VW shares plunge 10% after CO2 warning
Volkswagen shares have tumbled by nearly 10% at the start of trading in Frankfurt.
They have plunged €11 to hit €99.95, a one-month low .
Traders are rushing to sell the stock, following last night's admission of "irregularities" in the carbon dioxide levels emitted by 800,000 of its cars. The news that it could include petrol cars is also spooking investors.
Updated at 8.30am GMT
8.01am GMT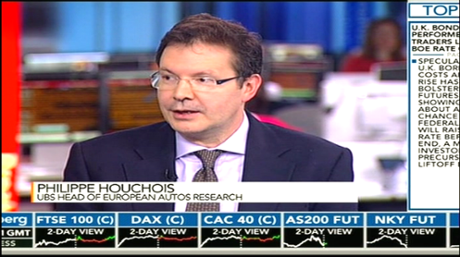 The head of UBS's automobile team, Philippe Houchois, says the crisis at Volkswagen has taken a serious turn.
He told Bloomberg TV that:
You can filter out NOx, but you can't filter out CO2, so it's potentially a bigger issue.
And that's because CO2 emissions levels are directly linked to the fuel economy of a vehicle. If a car burns through more gas than officially estimated, it will pump more CO2 out as well.
7.52am GMT
Credit Suisse: This could be bigger than the NOx scandal
Analysts at Credit Suisse believe that these new revelations around carbon dioxide emissions levels could be more serious for VW than the known problems with NOx levels.
They say (via Business Insider):
At this point the financial impact from today's release is unclear, as only limited details have been provided. However, given that that provisions per vehicle are 4.1x higher versus the NOx issue, the magnitude could be much bigger in scale.

In our view, today's announcement could concern those who believe that the economic impact is manageable and more than priced in post the drop in share price. <end>
I suspect it depends whether VW have got to the bottom of the problem yet. Currently, they says the CO2 problems (estimated cost: €2bn) only affect 800,000 vehicles, compared to the 11 million which contain software to cheat NOx tests (estimated cost: €6.7bn).
Updated at 8.12am GMT
7.42am GMT
The steady stream of bad news from Volkswagen in the last six weeks has stunned some commentators.
Arndt Ellinghorst, a London-based analyst with Evercore ISI, told Bloomberg:
"VW is leaving us all speechless".
Bloomberg also has some information about the cars whose CO2 emissions are now being questioned:
Volkswagen's Polo, Golf and Passat models are affected as well as the subcompact A1 and the A3 hatchback at the Audi premium brand, a Volkswagen spokesman said by phone.

The affected models at other brands include the Skoda Octavia, the Seat Ibiza and the Seat Leon.
7.36am GMT
VW shares down 6.3% in pre-market trading
Volkswagen shares have slumped by over 6% in pre-market trading on the German stock market, as Frankfurt traders digest last night's news.
The market opens at 9am local time, or 8am GMT.
Updated at 7.37am GMT
7.34am GMT
The Financial Times has some details about the 800,000 Volkswagen cars which have 'irregularities' in its carbon dioxide levels:
The company told the Financial Times that the vehicles affected were "mostly diesels", although for the first time petrol engines were involved in the scandal. The vehicles' emissions were understated and fuel economy overstated.

The vehicles' emissions were understated and fuel economy overstated.

The vehicles all have 1.4 litre engines — they are mostly VW Polos and Golfs but some are also Audi, Seat and Skoda cars.
Updated at 7.40am GMT
7.28am GMT
The Agenda: VW crisis deepens after CO2 admission
Good morning, and welcome to our rolling coverage of the world economy, the financial markets, the eurozone and business.
The crisis at Volkswagen is deepening today, after the German carmaker admitted that even more of its cars had "irregularities" in their emissions levels and fuel consumption figures.
For the first time, VW said it had found problems involving carbon dioxide emissions on 800,000 of its vehicles – on top of the 11 million that have been spewing out unacceptably high levels of nitrogen oxides.
And it also revealed that petrol engines are involved too, as we reported last night:
An internal investigation into the diesel emissions scandal has discovered that CO2 and fuel consumption were also "set too low during the CO2 certification process", the company admitted on Tuesday night.

The dramatic admission raises the prospect that VW not only cheated on diesel emissions tests but CO2 and fuel consumption too.

VW said it estimated the "economic risks" of the latest discovery at €2bn (£1.42bn). The company said the "majority" of cars involved have a diesel engine, which implies that petrol cars are involved in the scandal for the first time.
Here's our full story:
These revelations pile more pressure on VW's management, as new CEO Matthias Müller tries to get to grips with exactly what's gone wrong at Germany's largest carmaker.
Stay tuned for the latest developments.
Also coming up today….
The global service sector will be in the spotlight this morning, as Markit publishes its latest PMI surveys.
There's plenty of UK companies reporting results too:
High street bellweather Marks & Spencer has posted a 3.3% jump in food sales in the last six months, but a 1.9% drop in non-food sales:
And in the eurozone, ECB chief Mario Draghi is giving a speech at the ECB Forum on Banking Supervision in Frankfurt, Germany. He could drop new hints about the need for fresh stimulus measures to get Europe's economy moving.
We'll be tracking all the main events through the day:
Updated at 8.12am GMT
guardian.co.uk © Guardian News & Media Limited 2010
Published via the Guardian News Feed plugin for WordPress.